Sheet molding compounds, a key material for the transport sector
2022-06-02
Sheet molding compounds (SMCs) remain to be key materials in many transport industry sectors. SMCs are thermoset resin based and discontinuous fiber reinforced composite materials, which are transformed into components by compression molding. Thanks to this process, SMC components offer high design freedom and show outstanding thermomechanical performances. Nevertheless, in order to keep adding value to SMC component's manufacturing process, the implementation of new technologies is mandatory.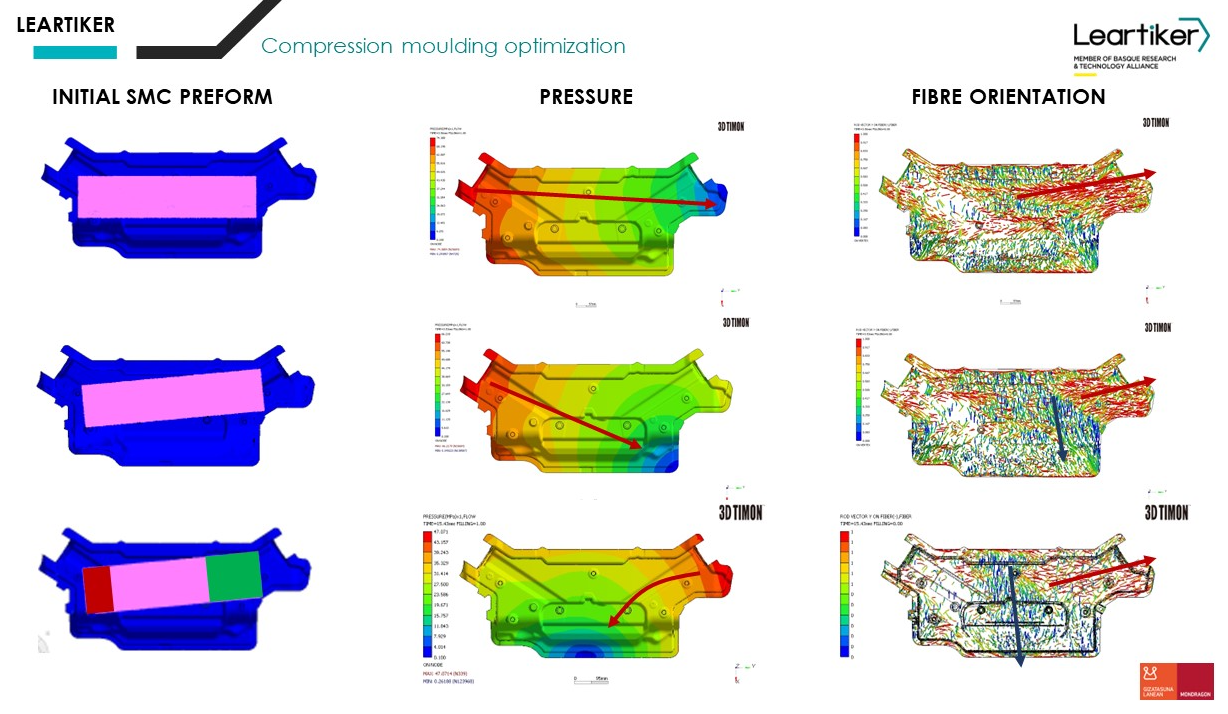 In this regard, one of Leartiker's Sustainable Transport specialization areas is focusing its research activities on the thermoset polymer's field, concentrating the main efforts in SMC materials. One of the last technical implementations within this research field is the compression molding simulation tool 3D Timon CompositePRESS (Toray Engineering D Solutions Co., Ltd.). This finite element method-based tool opens new possibilities for reducing costly trial and error optimizations loops at machine level, balancing the pressure gradient during the processing and minimizing the necessary clamping forces for producing parts by virtually adjusting the material preform size and positioning. Besides, based on the Direct Fiber Simulation (DFS) modeling approach implemented by 3D Timon CompositePRESS, the evolution of the fiber architecture during the molding and on the final component is estimated. DFS models the fibers of the composites individually and enables the prediction of fiber breakage, fiber volume fractions, fiber orientation tensors and weld lines, among other variables.
This tool and its associated capabilities allow to Leartiker to be aligned with our industrial partner's and customer's necessities and facilitates collaborations in order to meet their challenges.