SAGEZTIA, apples and honey for a brand new drink
2022-10-13
The natural cider that is consumed in the Basque Country is a product with strong roots and tradition. It continues to be traditional drink that is consumed at festivals or as part of a celebration. People drink it in the txotx format at cider houses or in bottles.
Much of the cider produced in the Basque Country is made with native apples. On the land where apples are grown, it is common to find beehives that contribute naturally to pollination. There would be no natural cider without the work of apple producers or without the pollination activity of the bees.

With the aim of closing the circle of biodiversity by getting all of the sectors involved, and aware of the current interest among consumes in consuming new products that are presented in an innovative way, the SAGEZTI project was launched to develop natural cider-based drinks, incorporating honey into the manufacturing process.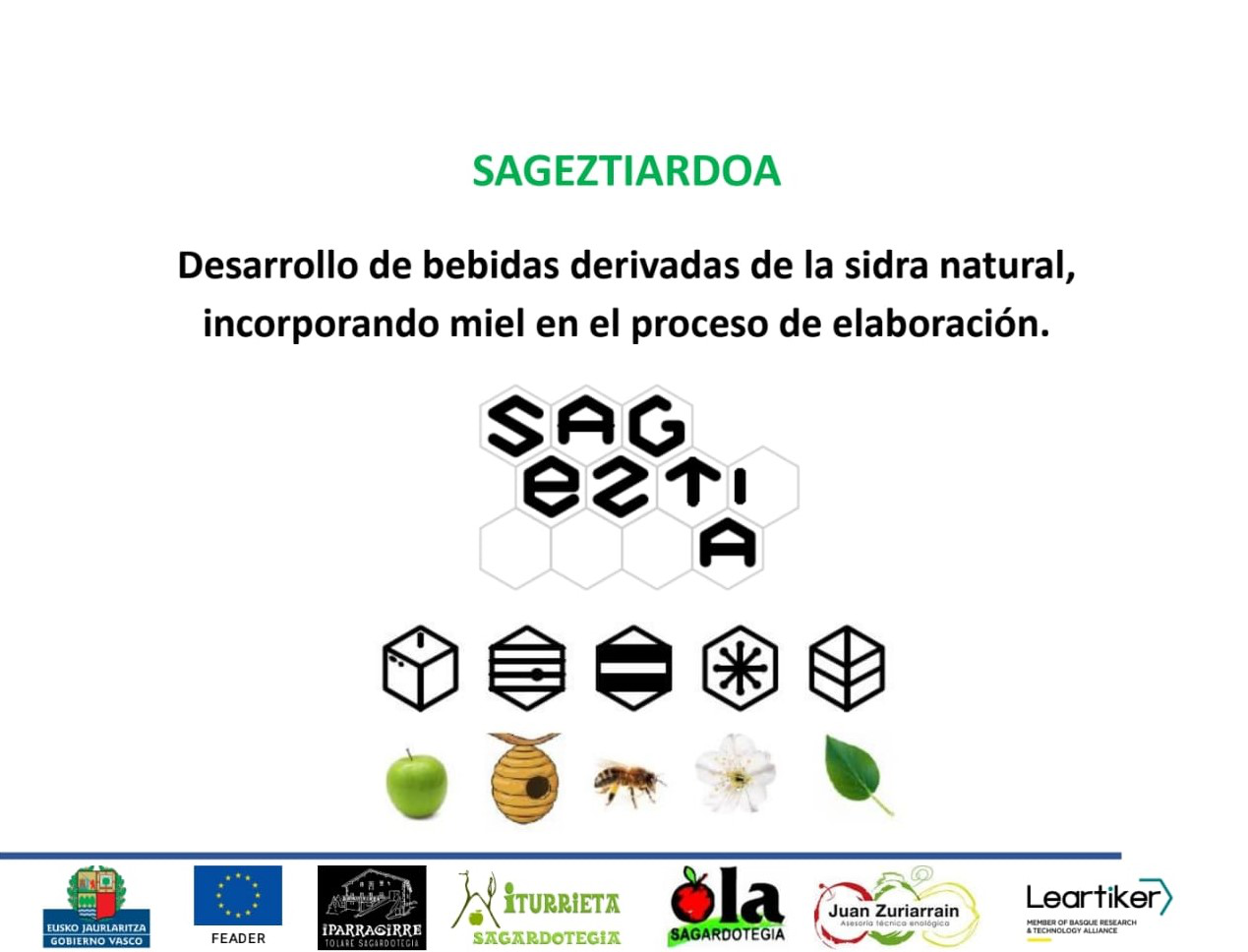 It is a collaborative project involving: 3 cider houses; Iparragirre Sagardotegia, Iturrieta Sagardotegia and Ola Sagardotegia; the wine expert Juan Zuriarrain; and the Leartiker technology centre. This project has been subsidised with the cooperation grants provided for in article 35 of Regulation (EU) 1305/2013, with funds from the Basque government and from FEADER.
During the 2021 season, 4 drinks with apple and honey were developed on a pilot scale, in Leartiker's facilities and in various wineries. Thanks to this work, we acquired knowledge about the processes involved in obtaining various natural cider-based drinks, where apple juice and honey are included in the fermentation process, resulting in an innovative range of alcoholic drinks with high sensory quality that showcase the qualities of the honey. These products have been dubbed SAGEZTI, a range with a variety of products, namely: Sageztia, honey-flavoured cider; Sagezti ardoa, apple wine with 11º of alcohol; Sagezti aparduna, sparkling cider; and, Sagezti txiki, honey-flavoured cider presented in a small bottle.

These early product prototypes were entered for the awards at the XII International Hall of Gala Ciders (SISGA), which was held in Gijón at the end of September. The event was the perfect stage for our team to present the project and for the audience, who showed keen interest in our products, to be able to try them. In the end, 2 of the products that were entered won awards in the Flavoured Cider category, the Sagezti cider made by Sidrería Iturrieta and Sagezti ardoa by Sidrería Ola.
The project's next milestone is to produce this range of products that were created and developed during the previous season on a commercial scale, work which will begin in the coming months. The results achieved during this second phase of the project will be presented to professionals and associations from the cider, apple and honey sectors at tastings and events scheduled for this purpose. And with that, the SAGEZTI project, which began in October 2021, will draw to a close in December 2022.