At the forefront of long-term properties characterisation of polymeric materials
2022-10-06
Today's sustainability requirements demand increasingly comprehensive knowledge of the long-term behaviour of polymeric materials, especially materials being used for applications with structural requirements in the transport (automotive, rail, aviation), electrical appliance, electronics and leisure sectors.
To study the response of a material to the effects of long periods of load, temperature or humidity, real-use conditions are usually replicated using advanced testing systems, where the evolution and degradation of thermo-mechanical properties are analysed. One possible approach is to perform standardised tests and another, to develop new accelerated methods to speed up the process, without losing the ability to predict the life of materials and manufactured products. Leartiker is researching both approaches.

Thanks to the grant received from the Basque government's Department of Economic Development, Sustainability and the Environment through the AZPITEK 2021 programme, LEARTIKER has acquired new equipment to conduct creep and stress-relaxation testing, putting the technology centre at the forefront of the characterisation of the long-term effects of exposure on polymeric materials (10,000 hours).
The new equipment, developed by the company Zwickroell, will make it possible to perform tests that determine the progression of deformation or stress and any ruptures that may occur. It will also allow Leartiker to further develop its knowledge in the area of long-term testing required by OEMs, component suppliers and manufacturers of materials.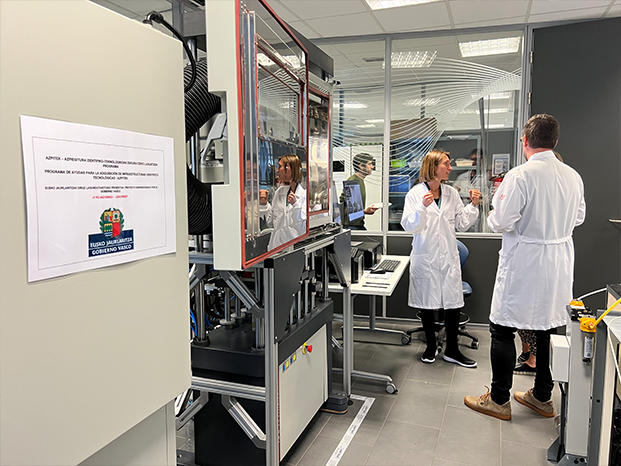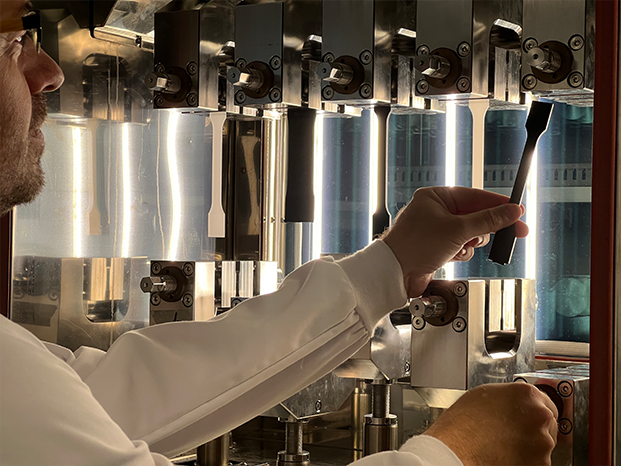 The Kappa Multistation is a machine composed of 5 separate stations with 10 KN of force on each actuator for tests on polymeric materials (elastomeric materials such as rubber and thermoplastic elastomer, glass/carbon fibre-reinforced composite materials) and it provides temperature control (from -60ºC to +180ºC) and humidity control (20-90% relative humidity within a temperature range of 20-90ºC). It also enables non-contact measurement and control of material deformation with a computer vision system on each station (5 video-extensometers). The deformation modes that can be applied are tensile, flexure and compression, in addition to other states (by machining test fixtures in order to adapt manufactured parts).
In recent years, Leartiker has developed various testing methods aimed at achieving more accurate characterisation of the behaviour of polymeric materials, this investment will allow the technology centre to make further progress with new methodologies, with the main goal of reducing the time it takes to perform tests and being able to accurately predict their behaviour.