Three new healthy pulse-based products produced in the Basque Country
2022-11-15
As a result of Eroski's collaboration agreement with Leartiker, Azti and Garlan to develop an innovative, open, and collaborative process, this autumn the retailer will start selling three new healthy local pulse-based products with the aim of adding value to product from the Basque Country by creating environmentally friendly solutions.
Additive-free baked rice and pea snack with 43 % local pulses.
Sterilised chickpea hummus
Smoothie made from fruit juice and Álava white beans.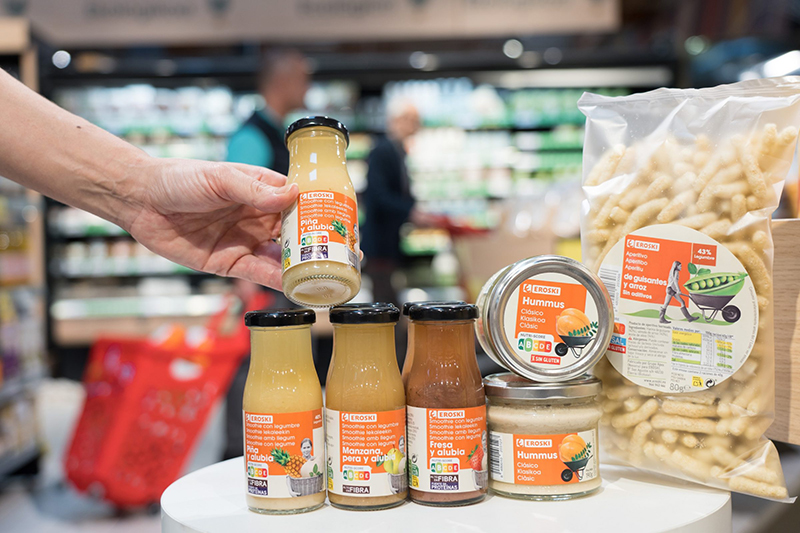 Collaboration and commitment to local production
Eroski signed a collaboration agreement with Leartiker, Azti and Garlan to launch an innovation project to promote pulses produced in the Basque Country with the aim of boosting the local production of pulses through the diversification of innovative products. The work focused on creating new ideas for healthy pulse-based products that were easy to prepare and consume.
In Leartiker's specialised area of Food Technology, one of the main areas of research is diversification through the enhancement of local produce, not only developing products and processes, but also conceiving, defining, and designing added-value local products.
This research line fits perfectly with the values of Eroski, whose aim is to promote healthy consumption habits - with pulses figuring prominently - and to use innovation to find the best way to consume it.
Basque pulses, production and consumption
3,383 tons of pulses were produced in the Basque Country in the 2020/2021 season. The main pulses intended for human consumption are: the Álava pinto bean, the Tolosa bean, the Goierri pinto bean, the Álava haricot bean, the Álava chickpea and the broad bean (baba txikia).
With 4.29 kg consumed per person every year*, the Basque Country is one of the three autonomous communities that ate the highest amount of pulses in 2021, behind Cantabria and Catalonia. Therefore, it is important to develop initiatives to promote the consumption of pulses, whether they be fresh or in the form of processed products.
Importance of pulses in diets
Pulses are a type of leguminous plant that are only harvested to obtain their dry seeds. Dried beans, lentils, and peas are the most commonly known and widely eaten types of pulses.
Pulses are essential crops packed with nutrients, high in protein, low in fat and rich in soluble fibre, which can help to reduce cholesterol and control blood sugar levels. Due to their properties, they are a perfect source of protein (especially in regions where meat and dairy products are not available), and they are recommended by health organisations to fight against non-transmissible diseases like diabetes and heart disease. It has also been shown that pulses help to combat obesity.**
___________________
*Source: 2021 report on food consumption in Spain, Ministry of Agriculture, Fisheries and Food.
**Source: FAO – Food and Agriculture Organization of the United Nations.