The transition to electric vehicles with ever-changing regulations
2022-11-24
The paradigm shift from internal combustion engine vehicles to electric vehicles has revolutionised the automotive industry. Major changes that mainly occur during the development phases are becoming increasingly brief, and because of the safety considerations regulations are continuously changing.
These new challenges must be properly studied to develop solutions that help the industry to design components that meet those requirements. In some cases, they may seem excessive. However, they relate to the actual conditions to which a vehicle may be subjected during its service life.
At Leartiker, we develop solutions through the various research projects in which we are currently involved. The challenge we face differs with each project, but we are working on two initiatives that have one thing in common: the battery lid. The main function of this component is to protect the battery and ensure good thermal management, and to protect the occupants of the vehicle from any damage caused by a malfunction or fault of the battery modules.
Mat-EV is a project whose goal is to develop new mixtures with flame-retardant properties, electromagnetic shielding and thermal properties for battery enclosures.
To develop these new mixtures, we looked for commercially available materials with EMI (electromagnetic interference) properties, we studied the additives to be used and we manufactured improved mixtures. We used these materials to produce specimens, whose electromagnetic shielding and fire resistance were tested according to the different regulations and requirements:
Some general fire resistance standards such as UL94, but also other specific standards such as GB/T 31467.3-2015 and UNECE Regulation No. 100, Annex 8E.
The image shows part of the test proposed by standard GB/T 31467.3-2015 and UNECE Regulation No. 100, Annex 8E to verify the fire resistance of full batteries in the event of an accident in which the ignited fuel from a non-electric vehicle ignites and may come in contact with an EV's battery.
We also have electromagnetic compatibility (EMC) standards designed to ensure that the battery's electronic control systems do not interfere with guidance systems, radar and similar, which play an increasingly important role in the safety of our vehicles: UN Directive UNECE R10, the ISO 7637 and 11452 international standards, among others; and the standards of various OEMs, e.g. Ford's FMC1278, Chrysler's DC-10615, BMW's GS 95002 and Jaguar Land Rover's JLR-EMC-CS v1.0.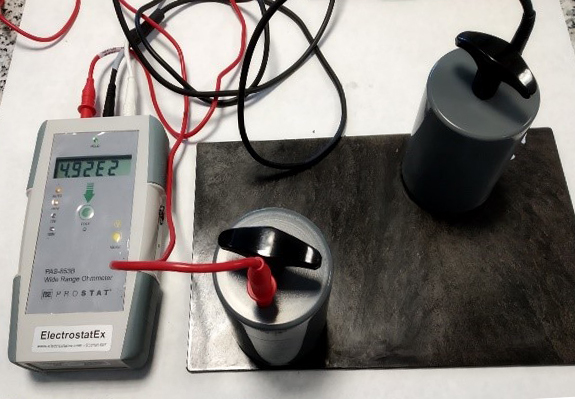 The electromagnetic interference (EMI) capability of plastic materials is, to some extent, determined by their electrical conductivity. Therefore, surface and volume electrical conductivity measurements are performed (as shown in the image), because, below a certain level of conductivity, the materials have no electromagnetic shielding capability.
The SABRE project is along the same lines as MAT-EV, with its main aim being to develop mixtures with properties that are fire-retardant and resistant to high temperatures.
One of the main concerns of OEMs (Original Equipment Manufacturers) relates to passenger safety, if there is an issue with the battery. In the most unfavourable conditions, one of the li-ion battery modules may combust (thermal runaway), sending ignited sparks towards the battery lid. One of the standards that tries to simulate this process is TDO V03.986.764.A. This regulation is designed to ensure that sparks will be effectively contained by the material used to manufacture the battery enclosure. Therefore, within the SABRE project, we are working to develop new mixtures to produce battery lids that meet these requirements.
These and future projects carried out by Leartiker in the field of electric vehicles will help the automotive industry to develop enclosures that maintain battery performance at an optimal level.